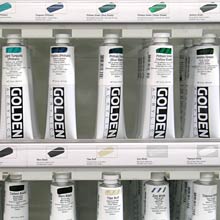 Check out our extensive range of materials including acrylics, oils, watercolours, gouache, airbrush paints, stretched and unstretched canvas, paper, brushes, pens, pencils, markers, inks, carving stone and tools, sketchbooks, palettes, and more...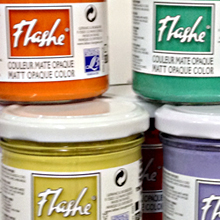 Check out what we have that's new in our art supplies store!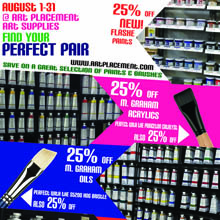 Find Your Perfect Pair
This August @ Art Placement Art Supplies, ALL of our M. Graham paints and Princeton brushes are on sale, plus we've got some helpful suggestions about which brushes to pair with which paints!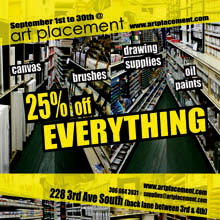 Back2School Savings for Everyone
Continuing our longstanding tradition, Art Placement is pleased to offer a STOREWIDE sale for the ENTIRE month of September! 25% off ALL regular priced items throughout the store!