View Larger Map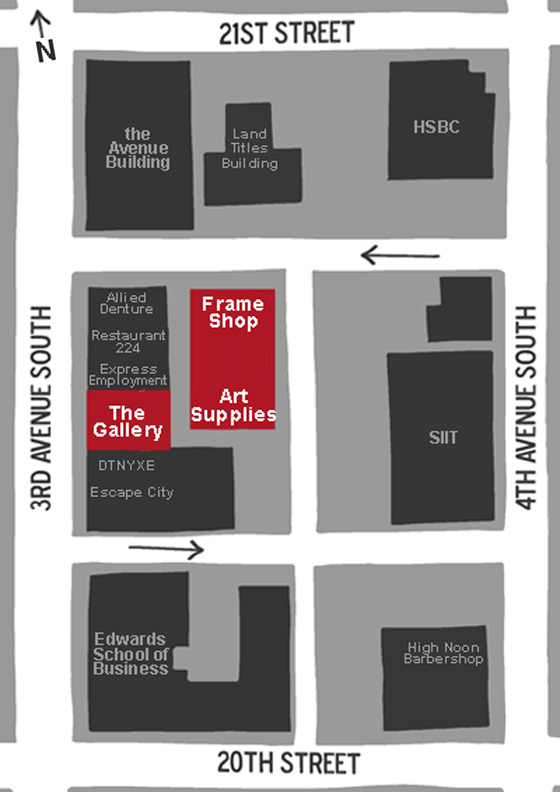 Price Discrepancy Policy
Every attempt has been made to ensure that the information and prices posted on our web site are accurate and up-to-date, however, this website is not linked to our live inventory and prices are subject to change without notice. In any instance where the price at the register conflicts with the price listed on the website, the price at the register shall be deemed the correct price.
Return & Exchange Policy
We will accept returns or exchanges of most products within 30 days of purchase only on merchandise that is unopened, unused, and in re-saleable condition. The product must be returned within 30 days of the purchase date with your original sales receipt. We cannot accept any returns or exchanges without a receipt. We also do not accept returns of paper, canvas by the foot, or clearance items. Special order items not carried in our store are considered final sale items.
Shipping Policy
We are happy to ship art supplies to out of town shoppers. All freight charges will be at the customers expense, though we will make every effort to choose the most economical carrier. Orders may be placed via e-mail or telephone. If placing an order via e-mail, please include a telephone number. Please DO NOT include credit card information in your e-mail communication.
If you have any further questions, please feel free to contact us at supplies@artplacement.com
ART PLACEMENT is an art supply store centrally located in downtown Saskatoon, Saskatchewan, on Treaty Six Land, the traditional homeland of numerous First Nations and the homeland of the Métis Nation. Our unique location is "down the alley" between 3rd and 4th Avenue and 20th and 21st Street. We are the number one art supply store, the best place for art supplies in Saskatoon and Saskatchewan, with the largest selection of products, competitive prices, and a knowledgable staff of trained artists. For over 40 years Art Placement Art Supplies has served artists of all levels, from beginners to professionals. Our extensive selection of products has attracted customers from across the country, including many items that are difficult to find other places. We stock one of the most complete selections of GOLDEN Artist Acrylics in Western Canada, as well as a broad range of canvases, wood panels, paint brushes, fine art papers, easels, sketchbooks, spray paint, airbrushes, oil paints, water colors, graphic and illustration markers, pens, pencils, inks, and other drawing supplies, and so much more!
phone
306.664.3931
fax:
306.933.2521
email:
supplies@artplacement.com
mail:
The GALLERY / art placement, inc.,
228 3rd Ave S (back lane)
Saskatoon, SK, Canada, S7K 1L9
Store Hours:
Monday - Saturday 9:00AM - 5:30PM
Sunday 11:00AM - 4:00PM
Holiday Hours:
Sunday, October 8th: CLOSED
Monday, October 9th: CLOSED
Saturday, November 11th: CLOSED
Sunday, November 12th: CLOSED
Sunday, December 24th: CLOSED
Monday, December 25th: CLOSED
Sunday, December 31st: CLOSED
Monday, January 1st: CLOSED
Purchase Information
The Gallery / art placement inc. offers many ways to purchase art supplies. Contact us either by email (supplies@artplacement.com) or phone (306.664.3931) or fax (306.933.2521) or mail (228 - 3rd Ave S., Saskatoon, SK, S7K 1L9) and we will help you make the purchase.
We accept payment by VISA, Mastercard, gift certificate, Interac debit, e-transfer, or cash. We do NOT accept personal cheques.
Connect with us:
| | |
| --- | --- |
| | |
| Like us on Facebook | Follow us on Instagram |
Communication & Privacy Policy
When you join our mailing list you will start receiving notices about our sales, promotions, contests, giveaways, and workshop offerings. We send three to four emails per month on average. Submitting your name and email address signals your consent to receive email communications and notices from The Gallery/Art Placement Inc. Your contact information will be kept strictly confidential and will not be published or shared with any third party in any way without your express authorization. You may withdraw your consent to receive email notices at any time and unsubscribe from our mailing list by clicking the unsubscribe link at the bottom of our emails or by communicating your intention to unsubscribe via email, telephone (306-664-3931), or in person. If you have any questions, please do not hesitate to contact us.