BETSY ROSENWALD & DAWNA ROSE - Journal of the Plague Year(s)
Reception: OPEN HOUSE: Saturday, February 26th, 1 PM - 4PM
February 1 - March 10
Art Placement is pleased to host Betsy Rosenwald and Dawna Rose for the month of February. The artists will occupy the gallery, utilizing the space as their studio. Both artists continue to dedicate much of their focus to the ongoing pandemic. Their multi-faceted project—originally Journal of the Plague Year, now Journal of the Plague Years—continues to progress and evolve parallel to the enduring public health crisis.
STUDIO OPEN HOUSE
Rosenwald and Rose invite you to visit the gallery on Saturday, February 26th, between 1PM and 4PM for a Studio Open House. Stop in to meet the artists and to see works in progress. Their dramatic transformation of the gallery offers a glimpse into their creative processes.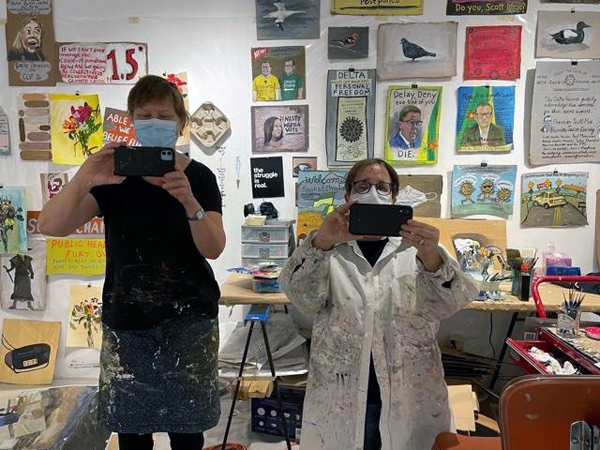 Dawna Rose (L) and Betsy Rosenwald (R), photo credit: Linda Duvall
Journal of the Plague Year(s)
Unfortunately, the pandemic did not end on February 28, 2021, when our 330G Projects exhibition came down. We saw the rise of the Delta and other variants fuel a fourth wave of Covid. The joy of the vaccine was short-lived, instead leading to even greater polarization. This was brought home to us here in Saskatchewan when our local government chose to follow their own political agenda rather than public health policy. As Saskatchewan became the Covid capital of Canada, our work took on an urgency about this lack of government response. Thus, Journal of the Plague Year has morphed into Journal of the Plague Years. Dawna continues to make signs that chronicle the existential crises that plague the planet. Betsy is working on a monumental dystopian cardboard altarpiece on the January 6th uprising in Washington D.C. called This is how democracy dies.
- Betsy Rosenwald and Dawna Rose
The artists gratefully acknowledge funding support from SK Arts.