NEW ITEMS
Check out what we have that's new in our art supplies store!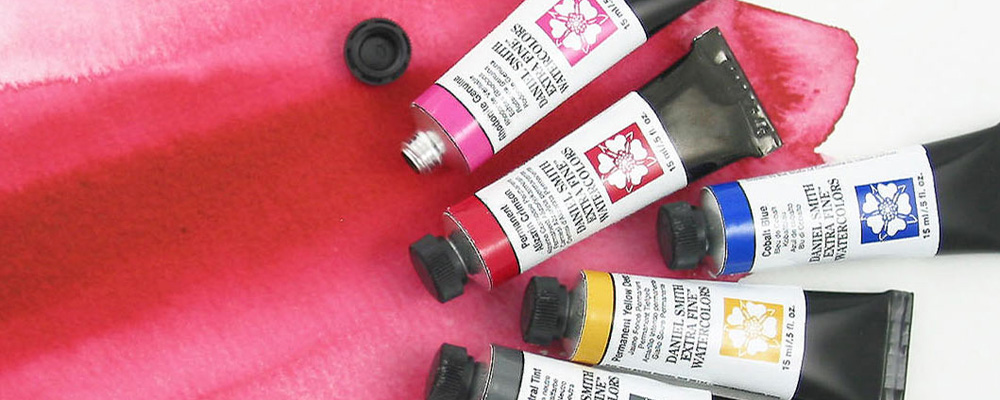 These extra-fine watercolors span the color spectrum from the historical to natural earth and quinacridones. Outstanding color strength, extremely vibrant colors and excellent brushing properties make these paints desirable for any watercolor artist. The pigments are procured from every continent except Antarctica, and the paints are manufactured in Seattle, Washington. Click here for more information including available colours and prices.

Writing instruments from Lamy are characterised by their top-quality functionality, materials, and workmanship. Lamy has been based in Heidelberg since 1930 and their production site has also remained on this site since that time. Around 95% of all production stages, including the manufacture of most components, take place in-house at Lamy. Lamy is known worldwide for: consistently high quality "made in Germany". Click here for more information including styles and prices.

An artists' watercolour marker is the modern definition of watercolour painting: a high-quality drawing instrument that supports both spontaneous sketching and artistic watercolour painting. The water-based ink is always ready for use and can also be completely washed out with water. The versatility of this marker is especially convincing when traveling. Those who like to hold onto impressions while on the go will be delighted to be able to turn to this pen. Click here for more information including colours and pricing.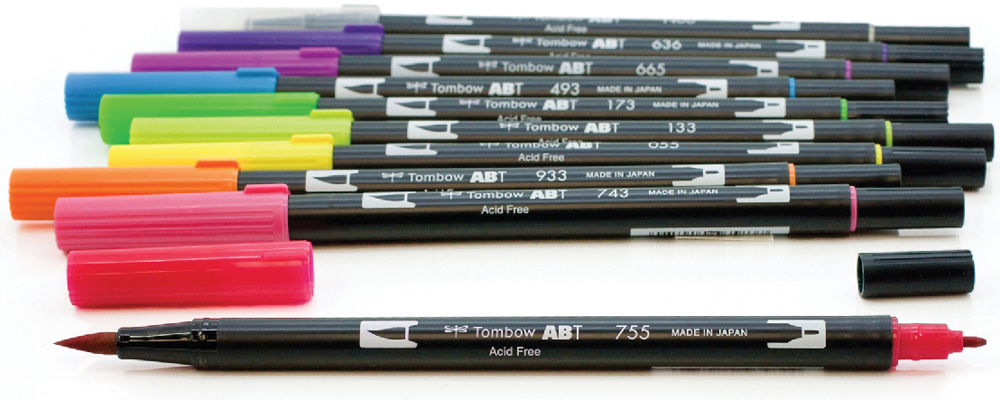 Whether you're coloring, lettering, drawing, animating, drafting or crafting, Tombow markers are the perfect choice. Complement your creative gene with Tombow's Dual Brush Pens. A double-headed brush-pen with a flexible nylon fiber brush tip on one end and a fine tip on the other. With non-toxic, fast drying, water-based odorless ink that blends to create any color desired. Available in 108 colours. Click for more information including colours and pricing.
NEW! GOLDEN Color Pouring Mediums, Isolation Coat, and Semi-Gloss Spray Varnish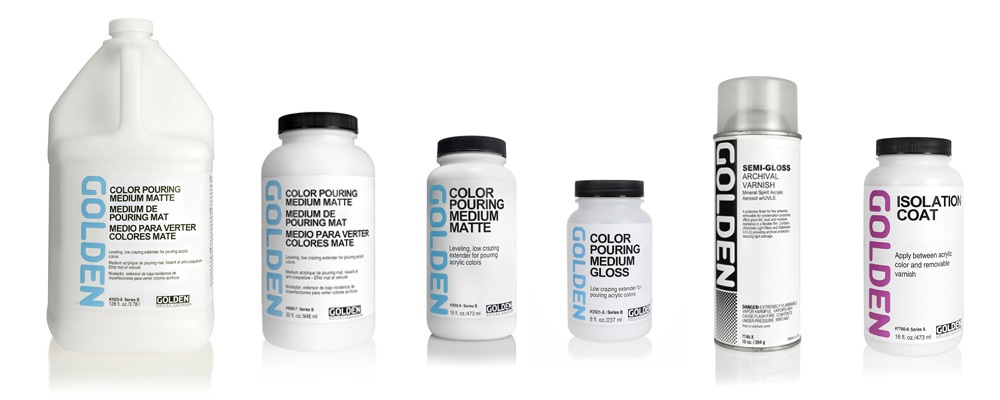 GOLDEN Artist Colors has released some exciting new products for 2019 and they're now available at Art Placement. First up is their long awaited Pouring Medium. Available in Matte and Gloss in 4 sizes (8oz, 16oz, 32oz, 128oz), Color Pouring Mediums help artists to achieve quality results with paint pours. Pouring Mediums are low viscosity, pourable, self-levelling mediums with low-crazing extenders to reduce the chances of cracks and fissures in the finished surface. Also new for 2019 is their Isolation Coat, a ready-to-use sealing coat for acrylic paintings. Isolation coat is a permanent acrylic medium that seals surface absorbency and allows for improved varnish application and easier varnish removal. Apply one or more layers before varnishing. Finally, GOLDEN has added an additional sheen option to their selection of Archival Sprays. Their popular MSA Varnish with UVLS now comes in a Semi-Gloss finish, in addition to the Satin, Gloss, and Matte options previously available.
NEW! GOLDEN GRIPR™ - paint tube opener

Golden Artist Colors is invested in helping artists at every stage of their creative journey with quality products, information, and product support. To improve the user experience of its packaging, GOLDEN is introducing a new tube cap for 2 and 5 oz. GOLDEN Acrylic tubes. The new deep-cog design is more comfortable to use with a smoother grip that is 35% taller, providing more surface area and leverage. New caps will begin rolling out in the first half of 2019 and will flow through store shelves as product with existing caps sells through.

The new cap is an improvement in packaging design for customers, but acrylic paints can also act as a glue between caps and tubes when dry, so artists may continue to have difficulty removing even the new caps from time to time. Additionally, people with diminished manual dexterity or hand strength find the small caps on most paint tubes difficult or even painful to work with.

This is where the new GOLDEN GRIPR® comes in! This strong and flexible plastic tube opener makes it easy to quickly remove stuck caps. It works with both new and old 2 and 5 oz. tube cap designs as well as smaller acrylic tubes, Williamsburg Oil tubes, QoR® watercolor tubes, and similarly sized competitor paint tube caps.

The new GRIPR tube cap tool is available NOW @ Art Placement Art Supplies.

ONLY $3.75!!!
Princeton's Aspen™ combines several important benefits to artists: the brush retains its shape for control and placement of color, paint releases and glides evenly off the synthetic hairs. The brush can be used with all acrylic and oil paints including water-soluble oils. The non-glare ferrule makes Aspen™ perfect for outdoor painting. A beautiful brush only surpassed by its performance. Click here for more information including available shapes, sizes, and prices.

The Legion Artist Pad Collection consists of a set of twelve 9x12 drawing and watercolor pads, including the renowned Stonehenge, Lenox, Yupo and Stonehenge Aqua papers, it offers every artist a glorious range of untouched, unrivaled and, perhaps, unexplored surfaces, all at an unbeatable price point! Looking for a taste of the Artist Pads but not ready to commit to full sized pads? Legion has a delightful range of Mini Pads also available. Sample the entire collection, or focus more specifically on your favourites. Click here for more information.
Legion Artist Pad Collection 9x12

12 Pads @ 9" x 12" each. Contains 9x12 pad of Stonehenge Aqua: CP, HP, CP Heavy. Stonehenge: White, Warm White, Kraft, Colors, Light. Yupo: Medium, Heavy, Translucent. And Lenox.

Legion Mini Pad Collection 2.5x3.75

12 Pads @ 2.5" x 3.75" each. Contains Stonehenge Aqua: CP, HP, CP Heavy. Stonehenge: White, Warm White, Kraft, Colors, Light. Yupo: Medium, Heavy, Translucent. And Lenox.

Stonehenge Mini Pad Collection

10 Pads @ 2.5" x 3.75" each. Contains 2 of each: Stonehenge Natural, Warm White, Fawn, Pearl Grey and Cream pads.

Stonehenge AQUA Mini Pad Collection

12 Pads @ 2.5" x 3.75" each. Contains 4 of each: Stonehenge Aqua Coldpress, Hotpress, and Coldpress HEAVY pads.

YUPO Mini Pad Collection

12 Pads @ 2.5" x 3.75" each. Contains 4 of each: Yupo Medium, Heavy, and Translucent pads.

NEW Holbein Acrylic Inks now available! Holbein Acrylic ink, is the next modification of Holbein Aeroflash Liquid Acrylics. which are professional-quality colors with exceptional brilliance and permanence. They contain high-density pigments ground to fine-grain size (0.001–0.004 mm) in an acrylic resin manufactured to the uniform viscosity most suitable for airbrush use. Click here for more information including available sizes, colours, and pricing.

NEWLY EXPANDED RANGE!!! Non-toxic, water-based POSCA markers can be used on almost any surface so you can express your creativity freely. The alcohol- and solvent-free opaque paint covers well, is blendable, dries quickly and can be overlaid when dry. The pen has a valve mechanism for a tight paint seal and a ball inside the barrel that mixes the paint, allowing for even paint consistency, texture and continued optimal results. The pen tips can be rinsed with water and some are reversible. The cap ensures protection and longevity of the pen tip. There is no need for a base; these versatile markers can be used on paper, glass, cardboard, wood, porcelain, metal, textiles, ceramics, plastic and much more without priming! Click here to learn more.
NEW Stonehenge and YUPO pads
Legion has re-designed their entire range of paper pads with bold colours and clean, contemporary design. It's the same great papers on the inside, with newly re-designed covers on the outside. Their eye-catching colour-coded system also makes it easier than ever to identify the particular Legion brand product you might be looking for. Click for more info and pricing.
NEW Derwent Products
In addition to the fantastic range of Derwent products that have been available at Art Placement for years, including their range of Graphic and Sketching Pencils, Watercolour Pencils, Inktense water-soluble Pencils, and Pastel pencils, we are delighted to introduce five brand new lines available in open stock as well as in sets. Click each product line to see the full colour range and additional information.
| | | | | |
| --- | --- | --- | --- | --- |
| | | | | |
| Great for nature studies, landscapes, seascapes and wildlife drawing, plus traditional portraits in the styles of the old masters. These traditional round artists pencils come in a range of intense colors. The soft and creamy texture of the extra-thick color lead allows blending to achieve a variety of colors and tones. The easy-to-apply waxy consistency produces a smooth velvety finish on paper, and the extra wide 5mm color strip is ideal for blending. | Graphitint pencils combine the creativity of a graphite pencil with a hint of soft, subtle color. Used dry, Graphitint offers soft color hues; add water and the color becomes more vibrant. Color tints range from soft grays, blues and greens to glowing russets, plums and browns. | These chunky water-soluble ink blocks provide vibrant strokes of ink-like color, bringing a new sense of freedom and color to drawing and painting. When used dry, the blocks provide pure vibrant color, but can also be completely washed out and transformed into a translucent ink-like paint which, when dry, can be worked over. They are extremely versatile and can be used for a wide range of creative effects. They can be used like pans of paint, dipped in water to apply color directly to paper, used dry on wet paper for instant intense color and more. They can also be used on fabric to create stunning silk paintings and other craft projects. | Add class and shine to your drawings with intense metallic colors. These metallic pencil leads are made from natural metallic pigments encased in 9-ply cedar wood barrels. The vivid pigments are most dramatic when used on a dark background and are also water-soluble for washes and reduced metallic effect. | These tinted charcoal pencils combine the dramatic beauty of charcoal with a gentle hint of color. When applied, the charcoal can be smudged and blended to achieve deep, rich tones. The pencils sharpen to a fine point for detail, and are easy to control for accurate drawing with less mess. They are available in a variety of subtle colors including white for burnishing and highlights. |

Art Alternatives Illustration Markers combine vibrant, easy flowing alcohol-based inks with dual nibs, making them ideal for coloring on canvas, paper, art boards and many other surfaces. These markers are quick drying, non smearing and feature both a brush and chisel nib for easy filling and precision coloring. Incredibly well-priced, these alcohol markers are the perfect introduction to alcohol-based markers for beginners and younger artists, while professionals and experienced artists will find that the performance of these markers keeps pace with top of the line brands, at less than half the cost! With 58 available colours, it's a smaller range than some of the top-end marker lines, but the palette has been carefully selected to offer a solid range of colours and tones. Click to learn more...
Gotrick's First Quality Deep Profile Gallery Canvas in floating frame.

Canvas depth: 1 3/4 inches.

Overall frame depth: approximately 2-1/4 inches.

Excellent value. Includes mounting hardware and hanging hardware. Dimensions listed are actual canvas dimensions. Frame adds approximately 1-1/2 inches to both dimensions. Available in 11 different sizes, from 4" x 4" to 24" x 36".

Holbein Coloured Gesso is highly pigmented, with an extremely smooth texture. It can be used as just a ground or it can be mixed with any acrylic paint or medium and finishes to a matte surface. It may be over painted with water-based or oil-based paints, and all drawing media such as charcoal, conte or pastels. This lovely gesso is available in a full spectrum of beautiful colours captured in a 300 ml. squishy pouch. This great packaging also prevents the precious colour from drying up since it doesn't allow air to collect inside. Click to learn more...
Short Handle• (Formally Rydal Gold) SHORT HANDLE SUPERIOR SYNTHETIC BLEND WATERCOLOR BRUSH

| | | | |
| --- | --- | --- | --- |
| Signature Colors Set | Landscape Colors Set | Traditional Colors Set | Modern Colors Set |
| | | | |
| The Signature Colors Set is a collection of signature colors from the Williamsburg line. It includes 11ml tubes of brilliant yellow pale, alizarin orange, Persian rose, king's blue, Courbet green, Italian lemon ochre, Stil de Grain and French ardoise gray, plus a 37ml tube of titanium white. | The Landscape Colors Set is an excellent outdoor palette that allows artists to produce the wide variety of hues, shades and tints encountered in nature. It contains 11ml tubes of permanent yellow light, cadmium red light, alizarin crimson, ultramarine blue, Sevres blue, sap green, Italian lemon ochre and burnt sienna, plus a 37ml tube of titanium white. | The Traditional Colors Set is an ideal starting place for artists who are interested in exploring a more traditional range of colors. It contains 11ml tubes of cadmium lemon, cadmium yellow medium, cadmium red medium, alizarin crimson, ultramarine blue, cerulean blue (genuine), raw sienna and French raw umber, plus a 37ml tube of titanium white. | The Modern Colors Set is crisp and bright, with the ability to produce strong and clean tints. The modern colors are an excellent choice for painters looking to supplement their traditional colors with higher chroma alternatives and contemporary painters looking to explore a modern palette. Set contains 11ml tubes of permanent yellow light, alizarin orange, Fanchon red, permanent crimson, Egyptian violet, pthalo blue, pthalo green and quinacridone gold brown, plus a 37ml tube of titanium white. |
When Princeton set out to create a synthetic version of squirrel, they developed a brush that may actually outperform the natural version. Neptune™ is their softest and thirstiest synthetic brush, delivering oceans of color. Experts in natural hair have been incredulous that this is actually synthetic. Neptune™ comes in a beautiful range of shapes including mottlers and quills with rich wood tones and sea glass aquarelle handles. Click here for more information and pricing.

This support allows the texture and color of linen to show through and be incorporated into your artwork. The original artist's flexible support, linen's longer fibers create a stronger, more durable surface than cotton. This finely woven 7 oz. Belgian linen is lightly primed with acid-free clear acrylic gesso to a finished weight of
9 oz. and stretched around and back-stapled to 1-3/8" deep, kiln-dried solid pine stretcher bars. Sizes with a dimension of 24" or longer are braced for additional support. It is ready to use with acrylic paints and other wet or dry media. Apply an additional primer to create an archival surface for use with oils.
introducing:

3 NEW HOLBEIN LINES

We are super excited to offer three additional Holbein lines in our store! In addition to the Holbein Artist Watercolour and Holbein Artist Soft Pastels, which have been customer favourites for years, we are pleased and delighted to announce that we will now also be stocking Holbein Acryla Gouache, Holbein Heavy-Body Acrylics, and Holbein DUO Aqua Oil. Read below to learn more about each of these three unique and high quality lines. Stay tuned for introductory promos in the coming months. Click the images to see the colour range and pricing information for each line.
Holbein Acryla Gouache

107 highly pigmented colors in 20ml tubes. Holbein Acryla Gouache moves, reacts, blends and feels like traditional gum arabic gouache, but unlike gum arabic, Holbein Acryla Gouache is water resistance once dry.

Drying to a velvet matte finish; Holbein Acryla Gouache does not shift in color tone from liquid to dry color. What you see wet is what you get once dry.

Holbein Acryla Gouache does not have the same fragile surface as traditional gouache in gum arabic and is compatible with all other water soluble media regardless of origin. An ideal medium for hobbyist and bird carvers as well.

Holbein Heavy Body Acrylic

In May 2013, Holbein introduced to the world market a completely re-engineered line of artist acrylic. The 113 carefully detailed color palette consists of colors derived from both Western and Eastern influences, specifically designed to add luster and brilliance to your paintings.

Utilizing the best traditional organic pigments as well as the latest and the most up to date inorganic pigments, Holbein Heavy Body Artist Acrylic affords the user seamless and effortless mixing and thinning. Holbein Heavy Body Acrylic has a unique texture similar to that of extra fine oils. The acrylic body is brushable and will retain any peaks or ridges created when applied in thick applications.

With its longer working time, extensive color selection, superior covering power, enhanced lightfast ratings and affordable price, Holbein Heavy Body Acrylic is sure to find a home in every painter's palette.

Holbein DUO Aqua Oil

Developed by Holbein in 1999 to offer the same high pigment quality and archival characteristics of Holbein's Artists' Oil line while allowing soap-and-water cleanup, DUO Aqua Oils are characterized by rich hues, high chroma, excellent lightfast ratings equivalent to that of traditional oil color and superior working characteristics. Holbein specifically details 17 colors as "Elite" colors that contain heavy metal pigments such as quinacridones, cadmiums and cobalts.

DUO offers 100 highly pigmented Artist Grade Colors suspended in a water soluble cold pressed linseed oil. DUO is compatible with all media including traditional oil color and mediums, watercolor, gouache, acryla gouache and acrylic. DUO is an excellent teaching tool and a superb printmaking ink.

IMAGINE A WHOLE NEW WAY OF PAINTING!
ONE THAT COMES IN A PACKAGING WHICH IS INNOVATIVE, ELEGANT, HANDY AND FEELS RIGHT.
Sennelier has been a byword for quality among artists since 1887, the year when Gustave Sennelier first opened his store as a colour merchant. He then developed extra-large paint tubes for the artist Nicolas de Staël and created the oil pastel for Pablo Picasso. 128 years later, Sennelier is innovating once again by launching the first range of acrylic paints for artists in a brand new style of packaging. Abstract is the result of three years of research by the Sennelier expert lab team. It is a fine acrylic paint which meets the standards set by all Sennelier products. Its pigment concentration--quite amazing for this segment of the market--gives it a creamy-to-thick consistency which we've called "Heavy Body", along with incomparable covering power. This paint is a pleasure to handle with a brush, a palette knife or straight out of the soft pack! Its ease of application onto multiple surfaces makes it very popular with students, professional painters, street artists, and others. Click here to learn more...
NEW DecoArt Products

Art Placement is pleased to introduce a range of decorative and mixed media lines by DecoArt. We now stock a broad range of the Americana DECOR series including Chalky Finish, Satin Enamels, Metallics, Outdoor Living, Color Stain, and MAXX Gloss. These products are designed for furniture finishing, decorative arts and crafts, embellishing indoor/outdoor accessories and MORE. We have also brought in the Americana Multi-Surface Acrylic line, giving our customers an affordable craft paint option. Finally, we are very excited to offer the DecoArt MEDIA line which includes products formulated to work seamlessly together to create amazing mixed media art. Included in the line are fluid acrylics, antiquing creams, misters, gessoes, mediums, crackles, varnishes, and textures. ALL DecoArt products are made in the USA.
Your favorite scenes from Johanna Basford's inky adventures have leapt off the page and onto ready-to-hang artist-quality canvases! Explore all of Johanna's worlds, from the Secret Garden, through the Enchanted Forest to the depths of the Lost Ocean. Each canvas features an intricate original design printed on 8 oz. primed cotton, stretched around an acid-free paper board and a 3/4" deep pine frame. Pair Johanna Basford coloring canvas with sets of #coloring markers, pens or paint for a truly creative experience! More...

The Winsor & Newton Pigment Marker™ – made using only the highest grade, lightfast, fine art pigments instead of dyes. Introducing a next generation marker that can finally keep up with your imagination… Pigment Markers are made with Winsor & Newton professional fine art pigments, delivering an intense colour range that is truly lightfast for up to 100 years, and maximum blending - just like paint. Including the first of its kind White Blender, a new tool for creating infinite new shades. NO ORDINARY MARKER! Learn more...

Albrecht Dürer artists' watercolour pencils provide artists with great versatility of expression when drawing, shading and painting in watercolours. High-quality materials, combined with over 250 years of experience, have resulted in watercolour pencils that produce unsurpassed watercolour effects and vibrancy. The coloured surface can be transformed with only a few fine or broad brush strokes to reveal the full and unique power of the colours. Depending on the paper being used, the pigments can be completely dissolved, and will then behave in the same way as classic watercolour paints. More...

The Absolute Finest Quality Permanent Artist Color Pencils
The name POLYCHROMOS®, meaning "many colors", was born in 1908 and became known across several continents. Today, the name still stands for best of class quality including: unsurpassed lightfast pigments, 120 vibrant colors, break resistant tips, waterproof, non-smudge, and color matched to all other Faber-Castell color lines. More...

Speedball's Fabric Block Printing Inks print on a range of fabrics with bold, opaque color, they dry to the touch overnight, and remain permanent through the wash--with NO HEAT SET REQUIRED! Learn more...

Art Placement is pleased to announce an expanded range of Pitt Artist Pen sets by Faber-Castell (and stay tuned for more new and expanded lines of Faber-Castell products in the near future!) Ink drawings have a very long artistic tradition. This has always been an interesting medium for artists and graphic artists, it lends drawings expression and durability and can also be combined with many other drawing techniques. Faber-Castell has combined all the advantages of artist's inks with the benefits of a modern, easy-to-use disposable pen - the PITT artist pen. The pigmented and very lightfast drawing ink is ideal for sketches, drawings, layouts, fashion design and illustration. More...

The PITT Graphic range provides all creative artists with an extensive assortment of pencils and crayons in different grades of hardness for sketching, graphic design and shading work. The "green pencil from Faber", which was already being mentioned with approval by Van Gogh and Goethe, has now become part of everyday life. The 16 different grades of hardness range from a delicate grey hue to a deep graphite black, and offer artists a wide range of possibilities. The Graphite Pure leads are ideal for creating contrasts and shading extended areas. These pencils offer unparalleled possibilities for spontaneous expression, creating different effects based on the pressure applied and grade of hardness. The pencils are sharpened in the same way as a normal lead pencil. The graphite crayons are an ideal and very economical medium for working on very large sketches and areas. More...

Very high-quality oil pastels
With its soft, velvety texture and high pigment content, the Neopastel oil pastel offers artists and Fine Art teachers and students a flexible medium with strong colours. Developed in the Caran d'Ache workshops on the advice of expert pastel artists, Neopastel is a must with its huge range of 96 luminous hues, incorporating a wide selection of grey, warm and cold tones. Neopastel offers excellent coverage making it suitable for a wealth of applications and artistic combinations: from lines to flat-wash, blending to stencilling, or batik effect to sgrafitto in multiple layers. Its wide 10mm diameter, refined texture, water resistance and excellent lightfastness make it ideally suited for use on diverse materials, be they tinted or dark. Non-drying, non-oxidisable and heat resistant, Neopastel is also soluble in turpentine and can be used with ease for oil painting on canvas. Swiss Made. Neopastel oil pastels are designed and made by the artisans of the Maison Caran d'Ache with the greatest care according to the quality standard criteria of the Swiss Made label and in compliance with environmental norms and certifications. More...

Stabilo Pen 68 Fibre-tip Markers
With their sturdy bullet tips and brilliant, intense colors, these fiber tip pens are perfect for layout detail and sketching. The odorless water-based ink will not bleed. It also will not dissolve toner or ink of permanent markers. Pens can be left without their cap for 24 hours without drying out. Available in 46 beautiful colours. Perfect for filling in fine detail areas in illustrations, graphic works, and colouring books.
Stabilo Point 88 fine-point liner pens
The universal fineliner for school children to professionals, the Point 88 fineliner features non-smudging, water-based ink which is formulated to sustain a long cap-off time. The long-wearing 0.4mm tips are encased in metal allowing for hours of writing, drawing, sketching, and use with rulers and stencils. Available in 30 beautiful colours. Perfect for super find outlining and fine detail in-fills for illustration, graphic design, and colouring books. Available colours:
Princeton Snap!™ Economy Brushes - Series 9700, 9800, & 9850

A great value in a fun and colorful package. Time to have a little fun! Princeton has made lots of good-looking brushes over the years, but would they describe any of them as fun? Probably not. Enter Snap!™ A new brush series that's determined to get you to like it. You'll like the way they look. We know you'll love the way they perform. Snap! Brushes are fun, but not frivolous.

Ground in alkali-refined linseed oil, the Neutral Grays use a combination of Titanium White, Lamp Black, and small amounts of various iron oxides (Burnt Umber, Burnt Sienna, Raw Sienna) to pull the otherwise too-cool mixtures towards neutral. It took great finesse from the Lab, with the goal to always track as tightly as possible, the spectral curves generated from an official, newly minted set of Munsell Grays. The new Williamsburg Grays match the Munsell values nearly flawlessly across the spectrum. The fact that any attempt at Munsell equivalents are constantly compared to such exacting, universal model is what sets these colors apart. The Munsell Grays are meant to form an objective and known scale that any other color can be measured against. Incorporated as part of one's palette, they can allow a painter to adjust a color's chroma in a repeatable and precise way that is simply not attainable otherwise. Williamsburg Special Edition Neutral Grays are available in 150 ml tubes. More...

Introducing Winsor & Newton Watercolour Markers, an outstanding range of highly pigmented water-based markers which deliver Winsor & Newton's superb colour performance with added precision. Dedicated to providing artists with new ways to explore the expanse of their creativity, the new Water Colour Markers are one of their latest innovations, adding a new dimension to working with watercolour.

Expertly crafted with a twin tip, these watercolour markers enable artists to achieve unrivalled definition and control with water colours. Each marker has a fine point on one end and a flexible brush nib on the opposite, helping you create a variety of stunning, sweeping line thicknesses and superior detailing. The colour is easily blended with water to create soft and vibrant water colour washes. Learn more...


Montana Acrylic Markers feature brilliant water-based, pigmented, acrylic matte colors that are compatible with and match the colors that are available in the Montana Gold spray paint range. The optimum flow control pump valve system allows accurate handling and application. The markers come in a variety of nib sizes; the extra-fine and fine nibs are the best choice for fine detailed work. The ink is lightfast, water-proof and abrasion-proof allowing application to almost any surface including canvas, wood, metal, walls and glass. The ink is also ideal for brushwork and airbrush. Acrylic refill inks are available in 25ml and 180ml bottles allowing artists to refill their pens, mix and match their own custom colors and fill a range of empty markers. For interior and exterior use. Learn more...
EXPANDED COLOUR RANGE: Caran d'Ache Neocolor II watersoluble wax pastels

These watercolour crayons have been a favourite of our customers for years. We're very excited to announce that we've just exapnded the range of open stock colours from 42 to 84! Now you'll have even more beautiful colours to choose from. Neocolor II water-soluble wax oil pastels highlight the enormous innovative capabilities of the Maison Caran d'Ache. Created in 1972 as the continuation of the famous Neocolor I range, they offer boundless creative possibilities for artists and beginners alike. Basing their work on the existing excellent qualities – exceptional coverage, smoothness and extreme lightfastness –, the craftsmen of the Manufacture added water solubility, a property greatly appreciated by connoisseurs of the Maison from all manner of artistic fields and from school age upwards. Neocolor II can be used for all forms of creativity, ranging from drawings on dry or wet materials, monotypes, impregnation, wet drawing, glazing, rainbow gradation and facepainting. With 84 colours, the entire range offers almost unlimited scope for the imagination, to the point where even experienced artists once more see things through the eyes of a child, thereby liberating the purest of all creative energies: that of the sheer wonderment evoked by colours. Swiss Made. Neocolor II pastels are entirely developed and crafted in the Caran d'Ache workshops, according to the highest quality standards and in compliance with environmental norms and certifications.
Flashe Vinyl Paint

The FLASHE range, distributed since 1955, is one of the first modern painting materials. Its optical characteristics allow the effects of old tempera paints and primitive painting grounds to be reproduced matt and velvety, opaque. FLASHE colours are water-based and can be diluted with water to produce watercolour/gouache wash effects. They become indelible when dry. FLASHE colours can be applied using brushes, air brushes, or sponges. FLASHE is a multi-purpose product with many uses: preparing grounds for use with oil or acrylic paints, canvas paintings, theatre sets, advertising, thumbnail sketches or trompe l'oeil drawings. Click here to learn more...
Demco Fluid Acrylics

Demco's Fluid Acrylic offers artists an economical, low viscosity acrylic paint. Made in Canada and very well priced -- all colours available for one low price: $8.99 per 4 fluid ounce bottle. Featuring a solid range of 30 colours including iridescent gold and silver. All pigments have been selected for their good to excellent lightfastness. With great strength and excellent mixing results for an incredibly low price, this line of acrylic paints is sure to satisfy beginning painters and professionals looking for an economical paint option. 100% acrylic polymer emulsion, pigment based paint. Vibrant colour range. Use straight from the bottle for beautiful glaze and fluid techniques or thin further with water or acrylic mediums for a variety of wash and watercolour effects. Permanent, water resistant and flexible when dry. Wet paint cleans up with soap and water.
NEW! Sennelier Iridescent Oil Pastels 6 colour set

Pablo Picasso wanted the freedom to paint without a brush and Gustave Sennelier was the one to give it to him. The oil pastel was born with its sensual and creamy texture and its luminous and intense colour. They can be used over oil, acrylic, pastels or watercolour. They have more pigment than any other brand. There's no need to prime a surface before use. They can be thinned with turpentine or other thinners and worked with a brush. They are lightfast, non-toxic, and acid free. Try them today for the ultimate oil pastel experience. Available in a range of 120 colours, including 10 iridescent colours! Sennelier's range of iridescent colours is just one more thing that sets this brand of oil pastel apart from the rest. Try them out by picking up one of these new 6 colour sets!
NEW! Gotrick Liquid Art Mixed Media Panels

Gotrick's new Liquid Art Mixed Media Panels are an innovative product specifically designed for use with fluid acrylics, pouring mediums, and resin. Utilizing the same quality materials and construction techniques as our other Gotrick panels (russian birch surface, solid poplar frames), this NEW panel has a special raised edge that contains fluid materials. Designed in conjunction with Demco's NEW acrylic pouring medium. Allows artists to work with a whole new range of fluid and resinous media without overflowing the edges of your support! Come in today to see some of our sample boards.
NEW! Moulin du Roy Watercolor Paper
This is a mould-made, 100% cotton, French watercolor paper. Enhanced surface cohesion to allow for the application of several layers of paint without damaging the paper surface. Special mass and surface sizing allows even and easy pigment spreading as well as strength when wet. Moulin Du Roy has very good dry and wet erase-ability. The cold press surface is neither too smooth nor too grainy, making it easy to handle. Available in sheets and a 50in. x 10 yard roll!

NEW! Princeton 7050 Series Pure Kolisky Sable Brushes
Short Handle • Natural Kolinsky sable for watercolorists
These watercolor brushes are made with the finest Kolinsky sable hair. Hand-shaped by skilled German brush makers, the brush heads are what make these brushes a must-have for watercolorists. The natural hair ensures a generous belly for holding water and for maintaining a fine point.
QoR Modern Watercolors by Golden Artist Colors

The First New Thing to Happen to Watercolor in 150 Years. Deep, Rich, Beautiful Color. NOW AVAILABLE!
QoR's exclusive binder provides more pigment in every brushstroke, while retaining the best qualities of traditional watercolors. QoR offers a strength, range and versatility unmatched in the history of watercolors. The unique formulation accentuates the luminosity and billiance of each pigment even after drying, while providing the subtlety, transparency and flow of a great watercolor.
QoR (pronounced 'core') is an allusion to color as the center of watercolor painting. QoR also comes from a technical acronym meaning Quality of Results. The line consists of 83 colors available in 11ml tubes. It has been developed by Golden Artist Colors in collaboration with professional watercolor artists. They have produced a new, thoroughly modern watercolor that meets the exceptionally high standards of their Acrylic and Oil colors.
Click here for more information.
Wicked Airbrush Colors by Createx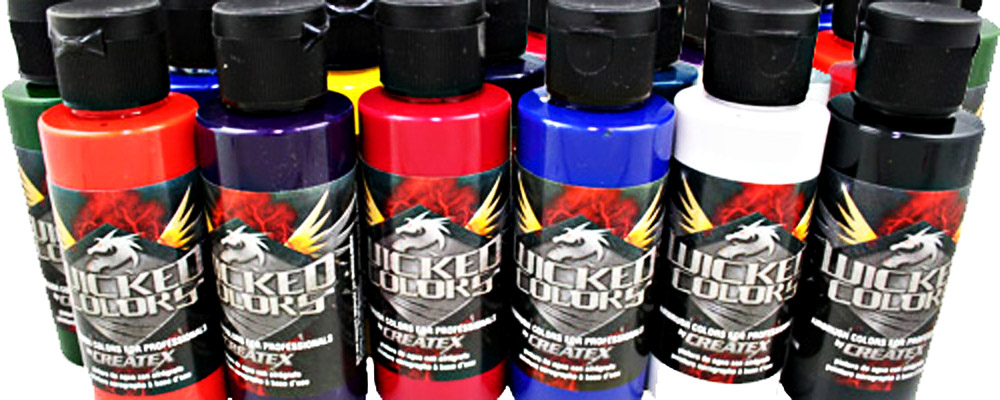 An ultra-high performance, multi-surface airbrush paint suitable for any substrate from fabric to automotive applications. Ideal for t-shirts, automotive graphics, illustration and more, it is an extremely durable paint that withstands direct, prolonged exposure to outdoor elements without washing or fading. more...

Speedball Watersoluble Block Printing Inks are now available in 16oz jars - 16 colours

Give your creations all the brilliance they deserve with inks from Speedball. Speedball's Water Soluble Block Printing Inks have been a popular medium among artists of all ages for a number of years. Now they are available at Art Placement in a well-priced 16oz jar. Perfect for large groups and classes. Available in 16 brilliant colors. These inks are easy to clean up with water, non-toxic, gluten free and super for printmaking with linoleum, wood, Flexible Printing Plate, Speedy-Carve™, and Speedy-Cut™. All Speedball inks are AP Non-Toxic and are excellent for use in the studio, school or home.

Also available in 37cc, 75ml, and 150ml tubes. Click here for more info and pricing.
Princeton Select™ 3750 Series Brushes
Short Handled - for decorative and technique painters
Created by the fine craftsmen of Princeton in partnership with well-known artist Willow Wolfe. A vast line of 22 distinct shapes created for decorative and technique painters. This is the line that Willow, her students, and fellow-instructors always wished for. Now you can explore traditional and avant-garde techniques on nearly any surface. There is a variety of synthetic and natural hair in this range. Satin-finish jewelry-box blue handles and silver ferrules make Select™ as beautiful to look at as it is to paint with.

Princeton Catalyst™ Brushes, Blades & Wedges


Catalyst is an innovative new line of creative tools for artists. Catalyst Polytip Bristle brushes are super stiff, but truly responsive. Catalyst Blades and Wedges are a new kind of tool made of engineered silicone. Click the images for information on products and pricing or learn more at catalystcreate.com
Jacquard - Piñata Alcohol Inks

Beautiful, color-saturated, acid-free, transparent inks. They have an alcohol base which makes them indelible and moisture-resistant when dry, and allows you to use them on almost any surface as long as it's clean and oil free. Highly versatile, Piñata can be used in a variety of applications, including rubber stamping, fine art, fiber art and scrap booking. It can also be used in calligraphy, faux finishing techniques, airbrush applications, wood and leather staining and more. The colors silver and rich gold are formulated with real metal pigments and are super opaque.

HIGH FLOW ACRYLICS - AVAILABLE NOW
49 high-intensity colors, including Iridescent and Fluorescent colors.
Full intensity and transparent.
Add to refillable markers, ruling pens or technical pens.
Great for illustration and fine detail.
Flows effortlessly from a brush.
Great for staining and color washing.
Pour right from the bottle!
Introducing GOLDEN High Flow Acrylics:
a new acrylic paint line that can go from brush to marker or from fountain pen to airbrush and more! From fine lines to broad strokes, High Flow Acrylic has an ink-like consistency that lends itself to a wide range of techniques, including staining effects, leveling colors, calligraphy, and mixed media. Replacing GOLDEN Airbrush Colors, beginning July 2013, the NEW HIGH FLOW FORMULA offers several improvements over Airbrush Colors, most notably an increase in durability of dry paint and more colors. 49 COLORS, including NEW Iridescent and Fluorescent colors, and more single-pigment colors that match GOLDEN Heavy Body, Fluid, and OPEN color lines. Click here for a PDF of the NEW High Flow color chart.
Grumbacher Academy Acrylics - Student Grade Acrylic Paint

Grumbacher Academy Acrylics are highly pigmented and have superior tinting strength. Made in the United States, they have been developed with a single student-grade price, regardless of color. There are 48 colors available in 75 ml plastic tubes. All 48 colors carry an ASTM lightfast rating of 1 (excellent). There are also 15 colors available in 200 ml plastic tubes. Perfect for hobby artists, art students and beginners of all ages.
Liquitex Basics - Value Acrylic Paint

Liquitex BASICS® Acrylic Paint is developed for students and artists that need quality at outstanding value. Each color is uniquely formulated to bring out the maximum brilliance and clarity of the individual pigment.
Rembrandt Soft Pastels

Excellent colour release. Intense and pure colours. Good to highest degree of lightfastness. Very high colouring power due to high concentration of pigment. Free of pigments based on the metals lead, cadmium and cobalt. The complete range consists of 203 colours
Kroma Crackle Acrylic Crackle Medium

Add beautiful textures to your acrylic paintings with Kroma Crackle acrylic crackle medium.
Kroma Crackle is suitable for a wide range of craft and fine art applications and can be applied to many surfaces, both flexible and rigid, including paper, metal, fabric, and wood. Kroma Crackle is not like any other acrylic medium on the market. Made in Canada by Kroma Industries. Click here for more info or check out some instructional videos.
M. Graham & Co. Artist Acrylics

Created using a unique, high solids acrylic polymer resin, which enables substantially increased pigment loads by reducing dependency upon artificial thickeners. Greater pigment loads result in lively, bright clean colors that give radiance to the finished works. The resin also provides a unique delicacy of touch and offers a world of opportunity from fine detail to broad, full brushed applications. The color is slower drying allowing subtle blends and soft transitions between tones. A slower "cure" rate allows the surface to be reactivated for the first hour after application for striking wet into wet effects. Traditional or experimental methods are easily expressed with the body and flow of pure color free from extenders and adulterants. Thick, full strength color may be applied in dramatic impasto effect or layered in glazes to achieve luminosity and harmony.
Montana Gold 400ml

THE PERFECT TOOL FOR CREATIVE WORK
Montana GOLD is the perfect tool for all artists and creative workers. The specially developed Low-pressure system guarantees maximum accuracy to meet the highest requirements while giving professional results! High-covering and quick-drying acrylic lacquer. Montana GOLD allows for a new level of ease and control when painting with spray cans, with no cracking or color bleaching. The new Montana GOLD color system has been completly overhauled and optimized by our dedicated team of artists and laboratory experts to make it perfect. With 204 possibilities, Montana GOLD offers the largest and most concise color range available in spray paint. Montana GOLD can be applied on canvas, wood, concrete, metal, glass or even flexible surfaces. For optimal performance, use with the new Level Cap System 1-6.
Reeves Thin Profile Economy Stretched Canvas

REEVES STRETCHED CANVAS features good quality, 100% cotton duck with a medium grain surface. Double coated with acid-free sizing and gesso primer for oil and acrylic painting. Mounted on 5/8" deep traditional wood frame made of kiln-dried, beveled stretcher bars. They are back stapled so the clean edges can be painted and finished paintings can be displayed without a frame. Ample canvas left on the back for restretching.
Derwent Pastel Pencils

Pastel Beauty. Pencil Control.

Derwent Pastel Pencils.

Nothing beats the colourful brilliance of pastels but they're not the cleanest medium to use. Now you can enjoy all the beauty of pastel in a convenient, non-messy form. These wood cased Pastel Pencils have a soft, powdery texture which produces a velvety smooth finish, ideal for mixing and blending. And because they're pencils, they're clean and easy to control although you may not be able to resist the occasional smudge with your finger! There are no less than 72 fabulous colours to choose from.
All 72 colours available in open stock
Prismacolor Premier Double Ended Brush Markers


Prismacolor's NEW double ended brush markers continue the level of quality of their original double ended art markers while expanding the range of mark-making possibilities. Prismacolor Premier Art Markers are professional artist-quality colours with advanced ink formulations. It's an alcohol, dye-based ink that's non toxic. Each marker provides rich colour saturation with smooth, silky ink flow and coverage. One ink source ensures color consistency from either end of the marker.


TerraSkin Stone Paper

TerraSkin is made from stone. It is Cradle to Cradle Certified. No trees, water, or bleach are used in its production. Ideal for oil painting, acrylic painting, charcoal, pen & ink, pencil, silverpoint and watercolour. Because it has no plant fiber content, it will not buckle when wet - stays perfectly flat even when saturated. Paint on it with acrylics or oils without Gessoing first. Water-resistant, tear-resistant, acid free, no fiber, available in a variety of weights and environmentally friendly! (photo credit: watercolour on TerraSkin by artist Edith Dora Rey)

SpectraFix Pastel Fixative

Colorless, transparent and dries rapidly to a water-resistant non-yellowing film. SpectraFix blends art-grade milk casein with water and pure grain alcohol adding a tiny amount of isopropyl alcohol. The alcohol evaporates rapidly taking the water with it, leaving a thin film of casein which quickly dries to a protective matte surface.

Pastel fixatives on the market today use resin varnishes, propellants and other chemicals as solvents, noticeably darkening the value and shifting the hue, as well as posing health concerns. While it is impossible not to affect the delicate powdery colors of pastels with any kind of spray, even plain water, SpectraFix minimally alters a pastel's value, and does not change the hue. Your colors remain fresh and vibrant, even after several layers. Great for all dry media with no toxic fumes! No more trips outside to spray your work.


Krylon Gallery Series Fine Art Fixatif - 11oz Aerosol

Preserves color and intensity of artwork while providing invisible protection to artwork in progress. Offers both workable and final protection. Won't dissolve whites and lights. Safeguards pastel, charcoal, pencil, chalk and more from dusting, smudging and fading. Contains UV light absorbers and stabilizers. Dries in 10 - 15 minutes. Handle after 2 hours.
EnviroTex Lite Pour-On High Gloss Finish

The original two-component polymer coating. One thick coat equals up to 50 coats of varnish. Professional results are quick, simple and easy. Just measure, mix and pour. Solvent free formula is 100% solids and has no unpleasant odors! These unique characteristics make it the perfect finish for decoupage, bar and table tops, plaques, diplomas, photographs, etc. Envirotex Lite has the longest working time (25 minutes plus) of all two component polymers with excellent hardness when cured.
| | |
| --- | --- |
| | Jacquard Fabric paints are opaque and bright, even on dark backgounds and their high pigmentation provides excellent coverage. They remain flexible and soft when dry. The Lumiere range offers a broad assortment of metallic, iridescent and pearlescent colours. Neopaque has a similar consistency to Lumiere but are not metallic, designed primarily to cover dark backgrounds with a light application. When used on light or white fabric the colors produce a subtle "designer pallete" alternative, a more intense color scheme. Both Neopaque and Lumiere can be screened, painted, stenciled, marbled, stamped or brushed on with a soft brush. Use on natural and synthetic fibers, leather, wood and paper. Fix on fabric with dry iron or heat. Washable and dry-cleanable. Available in 2.25 fl. oz. bottles. (Some colours also available by Special Order in 8 oz. and 1lb sizes) |
| | |
| --- | --- |
| | Use on cotton, rayon, linen and paper. Use it for tie-dye, vat dyeing, batik, airbrush, garment dyeing, screen-printing, spatter painting, gradation dyeing for quilters and more. This cold water concentrated dye, which you add to tap water, is the most vivid of all dyes for cellulose fibers. Procion dyes are permanent, colorfast and very washable. Typically, one 2/3 oz. bottle will dye more than 1 pound of fabric - very bright colors will require more dye, pastel color will require less. Forty colors available in 2/3 oz bottles. Fix with soda ash. (Some colours also available by Special Order in 8 oz., 1lb and 5 lb sizes) |
| | |
| --- | --- |
| | A mild alkali that promotes the chemical reaction between Procion MX fiber reactive dye and cellulose fiber. One pound of soda ash is required to activate and "set" Procion dye for approximately 15 T-shirts. |