HIGH FLOW ACRYLICS
49 high-intensity colors, including Iridescent and Fluorescent colors.
Full intensity and transparent.
Add to refillable markers, ruling pens or technical pens.
Great for illustration and fine detail.
Flows effortlessly from a brush.
Great for staining and color washing.
Pour right from the bottle!
GOLDEN High Flow Acrylics are an acrylic paint line that can go from brush to marker or from fountain pen to airbrush and more! From fine lines to broad strokes, High Flow Acrylic has an ink-like consistency that lends itself to a wide range of techniques, including staining effects, leveling colors, calligraphy, and mixed media. Replacing GOLDEN Airbrush Colors, the NEW HIGH FLOW FORMULA offers several improvements over Airbrush Colors, most notably an increase in durability of dry paint and more colors.
49 COLORS, including NEW Iridescent and Fluorescent colors, and more single-pigment colors that match GOLDEN Heavy Body, Fluid, and OPEN color lines. Click here for a PDF of the NEW High Flow color chart.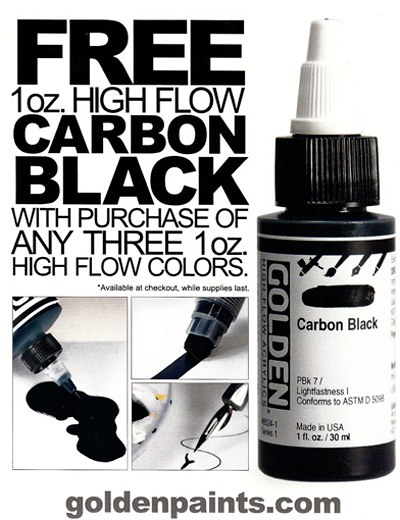 Make Your Mark with GOLDEN High Flow Acrylics!
GOLDEN High Flow Acrylic colors are an ultra-thin paint with ink-like consistency. This low viscosity formula provides incredible versatility. They are thin enough to go directly from the bottle into an airbrush, refillable marker or dip pen and work great for drawing, staining, dripping, pouring and color washes. High Flow offers a palette that includes many single-pigment colors, as well as Fluorescent and Iridescent colors. While it acts like an ink, it's an acrylic and that means they are compatible with other GOLDEN Acrylic colors and mediums and offer the same archival qualities you demand from artist quality paint.
For a limited time get a FREE 1 oz. High Flow Carbon Black when you purchase any three 1 oz. High Flow Colors.

For more information about High Flow Acrylic colors, visit goldenpaints.com/products/colors/high-flow.