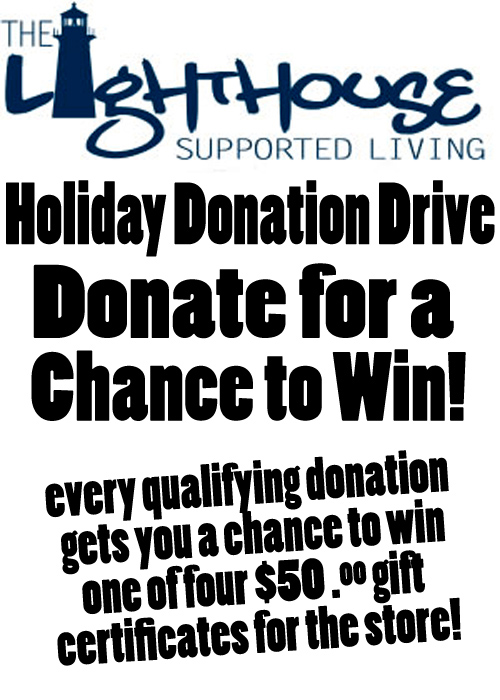 Lighthouse Donation Drive
Bring in a donation for the Lighthouse for a Chance to Win one of four $50.00 gift certifcates!
Our 2020 Lighthouse Donation Drive has begun! We'll be accepting donations of select items until December 31st - each qualifying donation gets you a chance to win one of four $50.00 gift certificates for the art supplies store! Due to COVID-19, we will only be accepting a select range of items this year. Sorry for any inconvenience. Keep reading for the list of items we will be accepting. If you have something else to donate, you may still be able to bring it directly to the Lighthouse. Please contact them to see if they will accept your donation at this time.
About the Lighthouse:
The Lighthouse Supported Living Inc. is a non-profit housing provider that offers emergency shelter, supportive living, and affordable housing for adult men and women in Saskatoon. The Lighthouse addresses the root causes of poverty through providing housing, food services, and employment in a supportive community for anyone in need. They are committed to caring for the poor, marginalized, and the hard to house. They believe that community has the power to bring about positive change in everyone, and everyone has the potential to bring about positive change in the community.
Click here to learn more about the Lighthouse including details about their various programs and services.
What You Can Bring to Art Placement to Donate:
Due to the complications of COVID-19, we will only be accepting the follow items for donation this year. Sorry for any inconvenience. If you have questions about an item you would like to donate, please call ahead or email before bringing it in. Accepted items include:
New/Unused Underwear (Men's and Women's M-XXL, bras, briefs, boxers)
New/Unused Socks (warm socks preferred)
New/Unused Hygiene Products (shampoo, conditioner, toothpaste, tooth brushes, deodorant, razors (men's and women's), shaving cream, feminine hygiene products, hair brushes, combs)
New/Unused Laundry Soap
Additional Items that can be taken directly to the Lighthouse
The Lighthouse has currently closed their donation centre for at least the next couple of weeks. For additional information about donating to the Lighthouse, you can visit their website by clicking here.
Items the Lighthouse Can't Use:
Children's clothing/items
Out of season clothing
Computer components such as printers
Couches and other large furniture
Large appliances
Used hygiene items like soap
Hot plates and toasters
Dirty/Soiled or Broken Items and Clothing