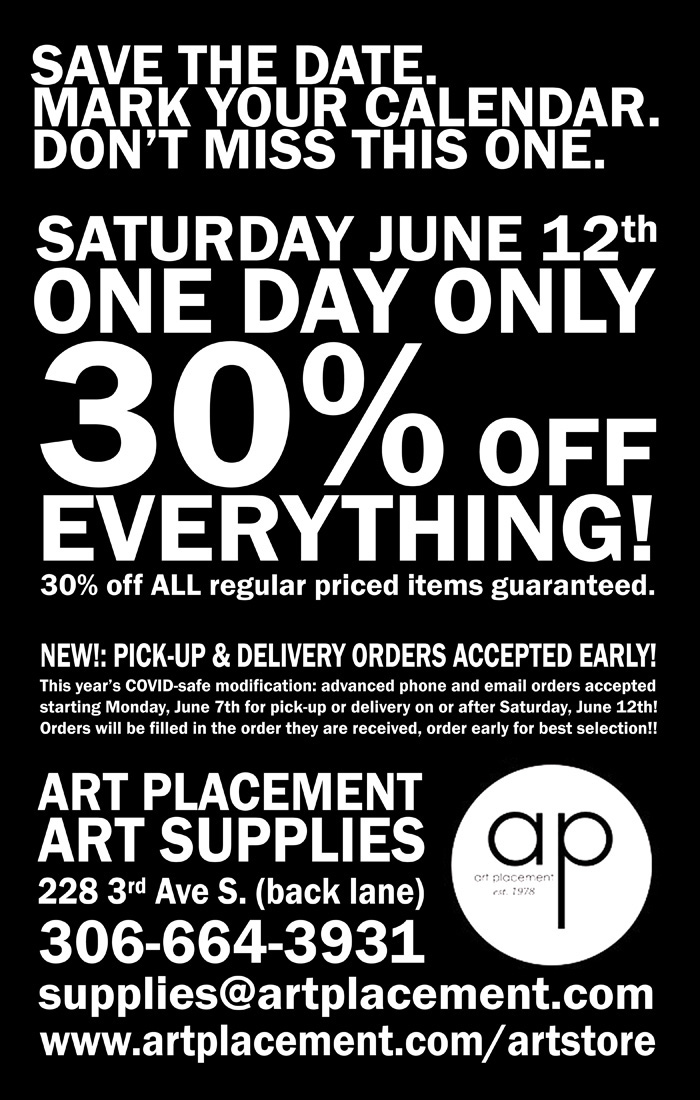 Place an order for pick-up or delivery!

Click the button to the right to order using our online order form, or you can call us during our regular business hours (306-664-3931 ext1) or email supplies@artplacement.com at any time to place an order.
Check out our products page for more info on all of the items that we carry. For questions about our products or monthly sales please call (306-664-3931), e-mail, or stop by the store.
*ALL regular priced, in-stock items throughout the art supplies store are guaranteed to be 30% off regular price on the day of the sale. Discount does not apply to special-priced items, clearance priced items, or other already discounted items. Sale discount does not combine with any other discount or offer including education discounts, membership discounts, or coupons. Sale discount does not apply to special order items, valid on regular stock inventory only. ALL clearance items will be at least 30% off regular price on the day of the sale. Clearance items currently discounted 30% or more will not be discounted further. ALL sales on Saturday, June 12th are final sales. No returns or exchanges will be accepted or processed on Saturday, June 12th. 30% discount valid on available merchandise only, no raincheques or holds.
ONE DAY ONLY.
SATURDAY JUNE 12.
30% OFF EVERYTHING!
It's back, back, back again!! Our much beloved annual one day sale is just around the corner, this year with another fun COVID-safe modification! And of course great savings, as always, on our ENTIRE selection of art supplies!
We're so grateful for all of the support our customers have always shown us, and we know how much you appreciate this annual event! The pandemic situation seems to be improving greatly, but we're not quite ready to have the aisles jam-packed with shoppers just yet!
This year, to keep the number of in-store shoppers in check, without people having to wait a long time in line, we'll be breaking with tradition by encouraging customers to place a pick-up/delivery order ahead of the actual sale date! Phone and email orders for the sale will be accepted starting on Monday, June 7th. Skip the crowds! Place an order for curbside pick-up or delivery instead! Orders will be filled in the order they are received, so order early for best selection!
Click here to check out our products listing for information about the items that we carry, including regular prices. They will ALL be 30% off!
Curbside Pick-up
We will do our best to have curbside pick-up orders processed and ready for pick-up on Saturday, June 12th; however, in the event we are overwhelmed by the volume of orders or the number of in-store shoppers, there may be delays. We will contact customers to let them know when their orders are ready. Please do not come to the store to pick-up your order until you have received confirmation from us that the transaction has been finalized and the order is ready to be picked up.
Delivery
Customers can expect delivery orders to be delivered the week after the sale (June 15th - 19th). Free delivery is available for any customer within the city of Saskatoon. Free delivery is not available for some oversize items, including canvases over 48x96 inches. For customers outside the city of Saskatoon, we are happy to ship your order to you. Canada Post parcel rates apply.
Order Payment
For pickup/delivery orders, payment must be made in advance by VISA, Mastercard, or e-transfer. No in-store payment, sorry :(. By encouraging pick-up/delivery orders, our intention is to reduce the number of people in the store. For that to work, we cannot allow in-store payment at the time of pick-up. We apologize for any inconvenience. This option is available at all other times, it is only unavailable on Saturday, June 12th.
In-Store Shopping
For customers planning to shop in store on the sale day, please note: capacity limits are still in place, which means you may have to wait outside. We encourage you to dress apropriately for the weather with that possibility in mind. We will also not be booking appointments on the day of the sale. It will be first come first served.
For the health and safety of all, please observe the following distancing rules:
Please do not visit the store if you are experiencing any symptoms of illness, have recently travelled, or have been in contact with any person experiencing symptoms of illness.
Masks/face coverings are required.
Upon entering the store, please make use of the hand sanitizer provided.
Maintain physical distance of at least 6 feet from all other shoppers and staff members while in the store.
Hold on to handbags and all other personal belongings at all times. Please do not place any items on the surfaces or furniture in the store.
Avoid all unnecessary contact with surfaces and items in the store. Please touch only those items that you intend to purchase.
No public access to the washroom facilities.
No food or drink.