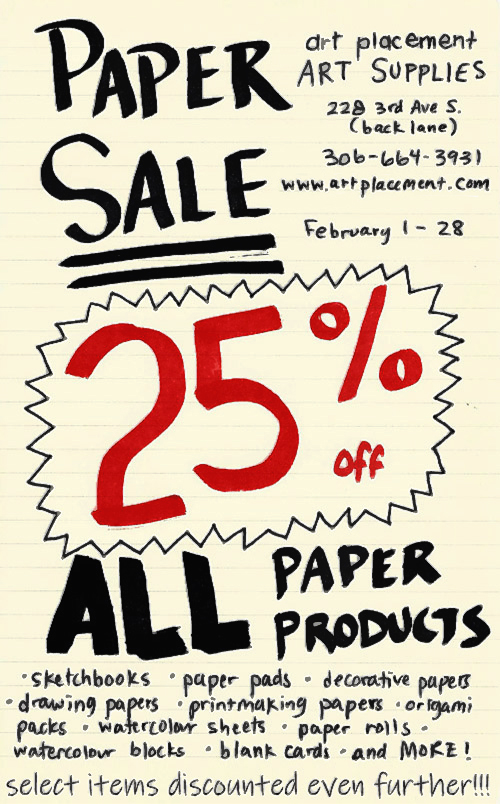 Check out our products page for more info on all of the items that we carry. For questions about our products or monthly sales please call (306-664-3931), e-mail, or stop by the store.
DEEP DISCOUNTS:
Check out these extra special Paper Sale deals! Select papers, sketchbooks, and rolls 30% to 50% off!!! Many of these items are priced to clear, so get them while you can!
30% off Bee Co-Mo 10yard Drawing Paper Rolls - reg: $22.79 to $25.49 NOW: $15.95 to $17.84 + taxes
40% off 16 x 20 Strathmore 300 Black Canvas Paper Pad - reg: $37.80 NOW: $22.68 + taxes
40% off Strathmore 400 Series Harcover Sketchbooks - reg: $21.15 to $43.65 NOW: $12.69 to $26.19 + taxes
50% off Alvin Yellow Tracing Paper Rolls - reg: $19.04 to $24.30 NOW: $9.52 to $12.15 + taxes

26th Annual PAPER SALE
25% off our ENTIRE selection of Papers & Paper Products!

Select items discounted up to 50% off!!!
Our 26th annual February Paper Sale runs February 1st to 28th, with GREAT savings on our ENTIRE selection of papers and paper products including ALL sheets for drawing, printing, and watercolour, as well as decorative papers, rolls, sketchbooks, notebooks, journals, paper pads, and blank cards! We've even got some extra special deep discount and clear-out items on sale for 30% to 50% off! Click each item below for more information including available sizes and weights, and regular prices.
25% off Printing & Drawing Papers:
25% off Watercolour Papers:
25% off Sketchbooks, Pads, Rolls, and Cards:
*Remember, Sale Discounts apply to regular priced items. Sale discounts may not be combined with any other offer or discount, including student discounts, education discounts, membership discounts, and coupons.