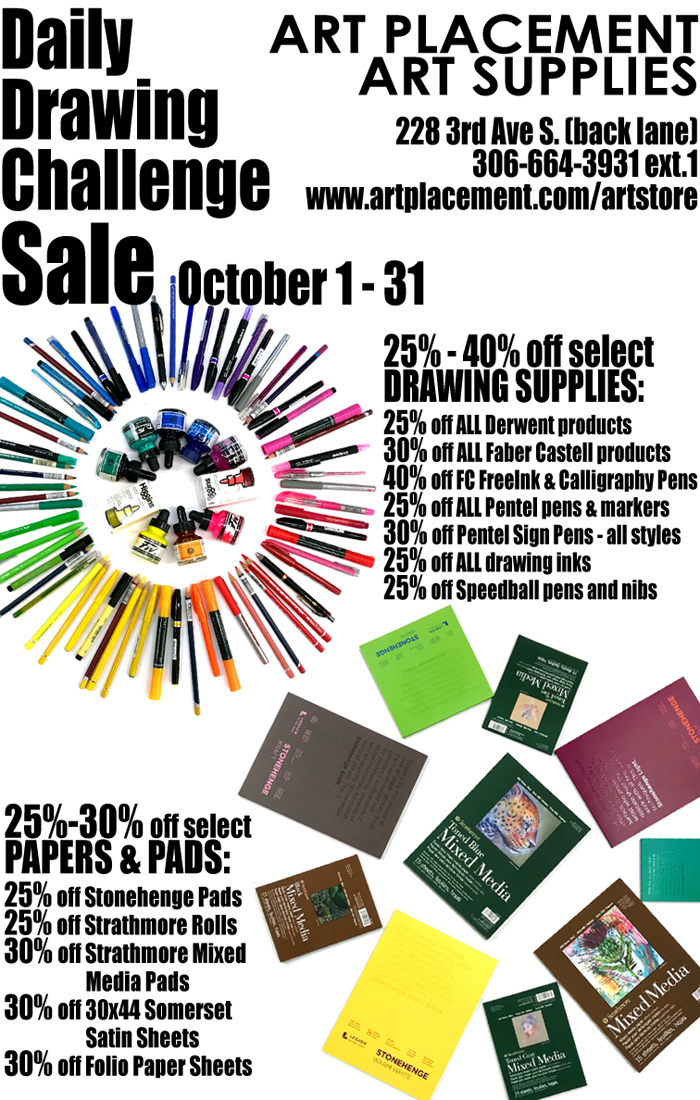 Check out our products page for more info on all of the items that we carry. For questions about our products or monthly sales please call (306-664-3931), e-mail, or stop by the store.
*Remember, Sale Discounts apply to regular priced, in stock items. Sorry, no raincheques. Sale discounts may not be combined with any other offer or discount, including student discounts, education discounts, bulk discounts, membership discounts, and coupons. Special order items do not typically qualify for sale discounts. Feel free to ask for more information when placing a special order.
Daily
Drawing
Challenge
Sale
25% to 40% off a HUGE range of supplies for drawing and illustration!
October is traditionally the month to take up a daily drawing challenge! There are tons of different names, prompt lists, and hashtags that you can use, but they all promote the same basic principle. Taking on a daily drawing challenge can be a great way to get back into drawing, improve your skills, or just have fun! There are also numerous online communities that you can connect with and share your work through. But don't worry if you're not the competitive type, it's not a competition to be the best! It's a personal challenge to form a new positive creative habit, and to practice and improve. Your only challenger is yourself! Whatever your reasons for taking part, we've got you covered on the supplies side of things with great savings on a range of drawing products all month long!
25% to 40% off select Drawing Supplies:
25% off ALL Drawing Inks:
25% to 30% off Select Papers & Paper Pads:
Other things to know:
We're open 9AM to 5:30PM for in-store shopping.
We're still accepting orders by phone or email for pick-up or delivery. Delivery in Saskatoon for a flat $5 fee. Out of town shipping at Canada Post rates
Limited number of shoppers in store at one time. You may have to wait, but you can also call ahead to reserve space.
Masks ARE MANDATORY. Thanks for your cooperation. Exceptions for very small children and persons who cannot wear a mask due to underlying medical conditions. Please contact us for more information about our mask policy. If you forget to bring your own mask, inexpensive disposable masks are available for purchase.