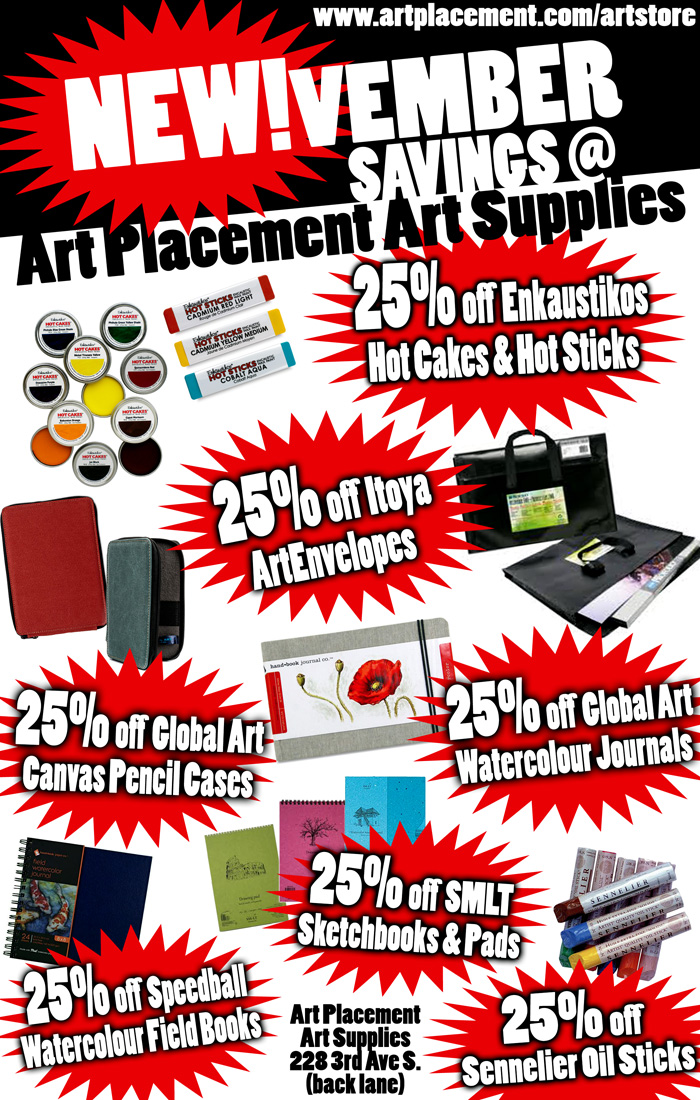 Check out our products page for more info on all of the items that we carry. For questions about our products or monthly sales please call (306-664-3931), e-mail, or stop by the store.
*Remember, Sale Discounts apply to regular priced, in stock items. Sorry, no raincheques. Sale discounts may not be combined with any other offer or discount, including student discounts, education discounts, bulk discounts, membership discounts, and coupons. Special order items do not typically qualify for sale discounts. Feel free to ask for more information when placing a special order.
NEW!vember SALE @ Art Placement Art Supplies
25% off New Arrivals!
We've received quite a few new products over the last several weeks so we're launching them with a month long introductory special! There are some brand new arrivals, as well as some returning favourites! Call, email, or stop by for more information!
25% off ALL Enkaustikos Products for encaustic painting (painting with wax)
25% off NEW Sketchbooks and Paper Pads
25% off Speedball Watercolour Field Books! - hardcover, coil-bound, perfect for painting in the field or the studio! 6x6 and 7x10 sizes, 140lb CP and HP finishes.
25% off Global Art Watercolour Journals - harcover watercolour journals, lay-flat construction, elastic closure, 200gsm and 300gsm options, CP finish.
25% off SMLT Sketchbooks and Paper Pads - SMLT is a paper company from Lithuania, making eco-conscious paper products with beautiful designs and top quality materials! Come in store to check out the assortment, papers for drawing, sketching, watercolour, journaling, and more.
25% off NEW Storage Solutions
25% off NEW Sennelier Oil Sticks
25% off Sennelier Oil Sticks - artist quality oil paint in a stick form now available in a broad range of colours in 38ml sticks. Paint with them, draw with them, use them in mixed media works!
Other things to know:
We're open 9AM to 5:30PM for in-store shopping.
We're still accepting orders by phone or email for pick-up or delivery. FREE Delivery in Saskatoon. Out of town shipping at Canada Post rates.
Limited number of shoppers in store at one time. You may have to wait, but you can also book an appointment to reserve space.
Masks ARE MANDATORY. Thanks for your cooperation. Exceptions for very small children and persons who cannot wear a mask due to underlying medical conditions. Please contact us for more information about our mask policy. If you forget to bring your own mask, inexpensive disposable masks are available for purchase.