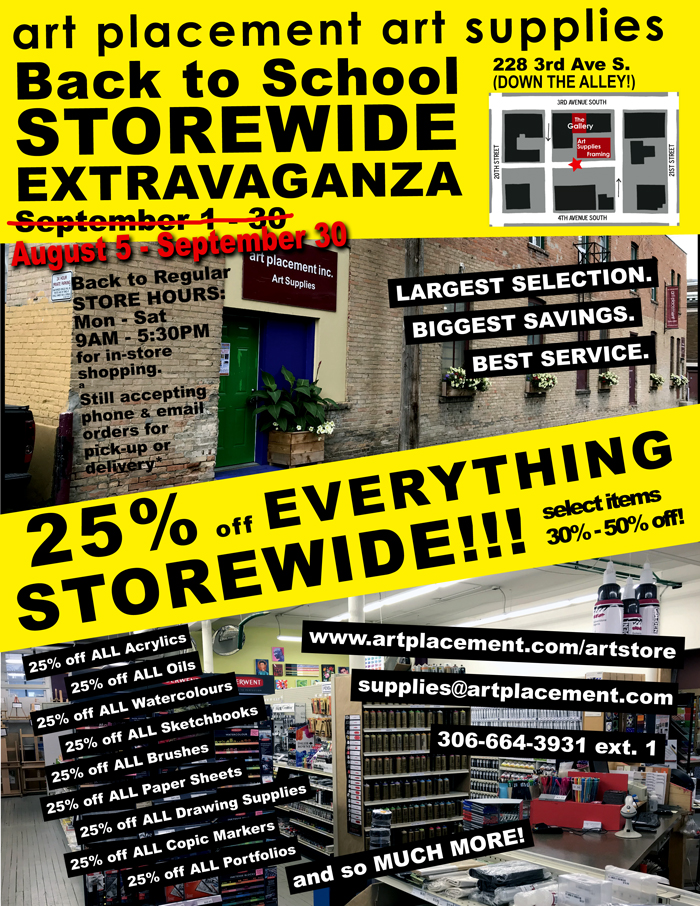 Check out our products page for more info on all of the items that we carry. For questions about our products or monthly sales please call (306-664-3931), e-mail, or stop by the store.
*Remember, Sale Discounts apply to regular priced, in stock items. Sorry, no raincheques. Sale discounts may not be combined with any other offer or discount, including student discounts, education discounts, bulk discounts, membership discounts, and coupons. Special order items do not typically qualify for sale discounts. Feel free to ask for more information when placing a special order.
Back to School
STOREWIDE
EXTRA-EXTRA-VAGANZA!!!
It's that time of year again...our BIGGEST sale of the year is here, but this time it's an EXTRA EXTRA special Back to School Sale, with an EXTRA month of SAVINGS!
We've all heard it said a million times at this point, but things have changed! Even though many parts of our lives have returned to some degree of normal, it looks like it may be some time before things get back to how they were. All we can do is try our best to adapt and figure out ways to carry on with the "new normal".
Fall classes are one thing that's going to look a lot different this year as schools might be closed and students will be tuning in online from wherever they might be throughout the province! In anticipation of a higher than usual number of orders, we've decided to spread the sale out over August and September, so students will have plenty of time to get their supplies before their classes start, and everyone else can pace themselves and know that they've got two months to take advantage of great savings!
Other things to know:
We'll be back to our regular 9AM to 5:30PM hours for in-store shopping.
We're still accepting orders by phone or email for pick-up or delivery. Delivery in Saskatoon for a flat $5 fee. Out of town shipping at Canada Post rates
Limited number of shoppers in store at one time. You may have to wait, but you can also call ahead to reserve space.
Masks ARE MANDATORY. Thanks for your cooperation. If you forget to bring your own mask, inexpensive disposable masks will be available for purchase.
25% off EVERYTHING!
We have the best selection in town. We offer competitive, transparent pricing. We post a price on our website and in store. That is our regular price. From August 5th until September 30th, every one of those items is 25% off that regular price. It's that simple.
Deep Discount Specials:
Select overstock and clear-out items are discounted even more, 30% to 50% off regular price! Stay tuned for details about some of our deep discount specials in the near future. Full selection and details available in store.
50% off Speedball Silver Fabric Screen Ink - 8oz
55% off 100 sheet packs Arturo Book Soft White